Am. Can. Int'l. Ch. Wilane's Undeniable
~ Gunyon ~
Ch. Invermood's Gunpowder CD ROM HOF X Am. Can. Intl. Ch. Wilane's Millennia
Bred by: "Wilane" (Jo Ann and Bill Emrick) ~ Loved and Owned by: Marla Zoz, JoAnn Emrick & John Moodie
Click Photo for Pedigree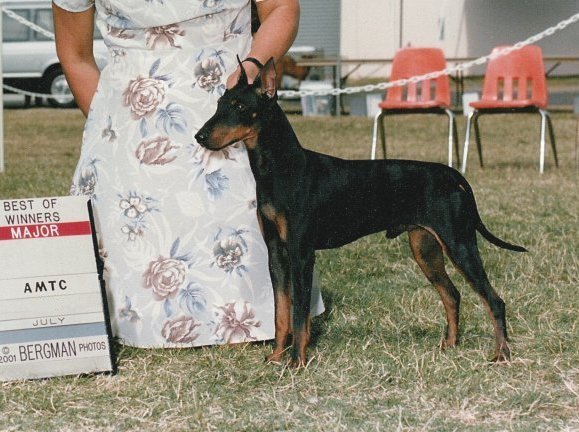 Above:Gunyon takes Best of Winners at the AMTC 2001 National Specialty Show under Judge Robert Sharp.

"Thank You to All of the Judges that Recognize the Quality of this Fine Specimen of the Breed!"

Below: Pictured are some of the Multi-Group Placements Gunyon has to his credit!.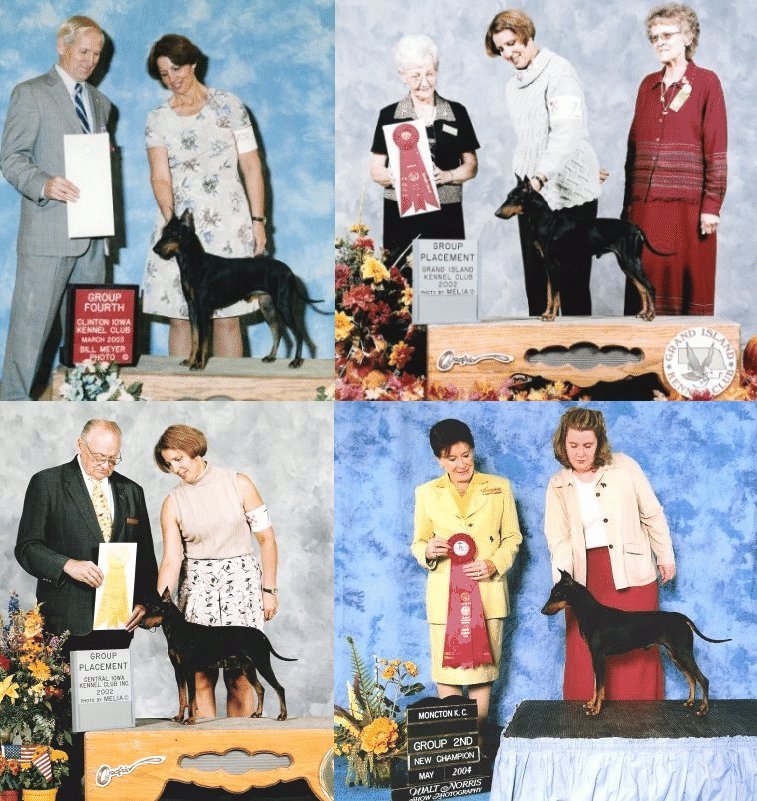 ---
Gunyon is vWD CLEAR, Thyroid tested NORMAL, Eyes CERF'D.
Standing at Stud with Breeder/Owner "Wilane" ~ Jo Ann Emrick by Private Treaty.
Offering Natural Breedings ~ Fresh Chilled Collection ~ Frozen Semen.
We have been very successful in using Modern Technology of Collection and Implantation.

---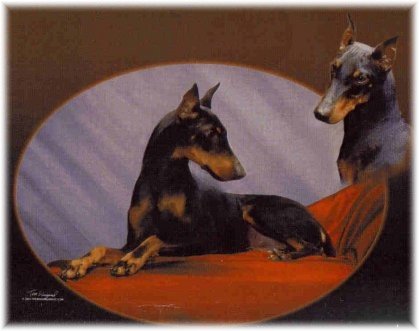 LoneStar Winter Sieger 2006
Judge's Critique on:
Am. Can. Ch. Wilane's Undeniable ~ Reg # RM320599/01 DOB: 8-14-00
Manchester Terrier-Standard Male

Critique from American/International Judge Mrs. Jane Roppolo 2/4/06 Rating: V 1
Judgement: Nice mature male
Over all impression: Good breed Type
Coat: Proper markings; short/sleek
Head: Nicely divided
Bite/Mouth: Sissor
Eyes: Almond/dark
Ears: Well set/carried
Chest: Nicely developed
Front Angulation: Good layback
Back Angulation: Muscular
Top line: Proper for Breed
Tail: Well set/Carried
Movement: Free/ Effortless

Critique from American Judge: Marilyn Pipes 2/4/06 Rating: V 1
Judgement: Good Breed Type
Over all Impression: Sturdy/Agile/Confident mover
Coat: Short; Sleek; Close fitting/Proper color & Markings
Head: Correct shape & in proportion to body
Bite/Mouth: Correct
Eyes: Well set; Bright/Intelligent/Alert
Ears: Correct set & Carriage
Chest: Good fill & Depth
Front Angulation: Nice Layback, Elbows well under
Back Angulation: Good Bend/Muscular
Topline: Strong, slight arch/holds on move
Tail: Correct set & style
Movement: Easy/Free/Agile, but Muscular & Strong

Critique from American/International Judge: Dr. Steve Keating 2/5/06 Rating: V 1
Judgement: Nice Outline/Balanced Male
Overall Impression: Good Attitude
Coat: Nicely Conditioned
Head: Good definition/correct
Bite: Proper Dentition/gums
Eyes: Alert/Expressive
Ears: Well Set & Used
Chest: Good Development
Front Angulation: Sound Assembly
Back Angulation: Good muscle tone
Topline: Nicely & proper in Motion
Tail: Good Carriage/Set
Movement: Nice Action
---

Main


Next

Wilane Manchesters
JoAnn Emrick
3219 Bond Street
Pasadena, Tx. 77503 - 1305
1-713-473-7800


©
E-Mail Me For More Information